2 Jan 2018
Most organisations these days have become pretty soulless places. People run from meeting to meeting, constantly glancing at their smartphones or blatantly opening their laptops to do mail while pretending to listen to their colleagues droning on about their pet project, or worse of all – sitting through endless PowerPoint presentations, slowly losing the will to live. We confuse being present in the same room as other people with actual communication. And yet we have fabulously sophisticated technology at our fingertips to capture, present and share information more easily and creatively than ever before – but we spend less and less time actually being awake and alert and engaged with other people when we are in the same room.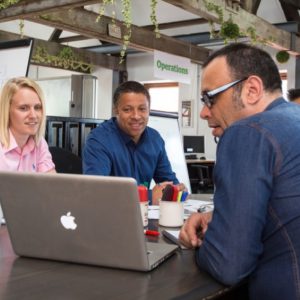 Running a workshop with a global leadership team this week the subject came up about how unproductive such meetings are. We fly people all over the world, put them up in hotels, feed and entertain them – for the purpose of getting to know each other better and creating good team dynamics – but we rarely allow exchanges to simply flow and give people time to freewheel and explore ideas. The group I was working with has excellent in-house capability to share information instantly using an intuitive, real time platform – yet people admitted to posting documents on the shared platform, then emailing them to each other as well!
We probed around why this was – and it comes down to several factors: from fear of not being perceived as productive or ' visible' enough, to a need to 'show' their boss and colleagues how hard they are working and ultimately, to a lack of trust. The team decided to stop this unhelpful practice of sharing information by email, to limit presentations to two slides only when they meet face to face (or to use flipcharts and whiteboards if needed for back up). This should allow for at least half of the time they meet together to be dedicated to exploration and discussion around themes, leading to decisions being taken and implemented much more quickly, with stronger input and backing and ultimately much greater chance of success.
Someone raised the concern '"What if I post something on the shared site that others don't read?" The answer was "That means either the information wasn't relevant, or wasn't presented in an engaging enough way". By reviewing the impact of what was presented, rather than the content, the team should free up valuable time to focus on what really matters.
I will be following this team's progress with a great deal of interest. This approach should result in a much more focused and agile way of working- not to mention more enjoyable and human.